The course at the Golf-Club An der Pinnau e.V.
The Golf-Club An der Pinnau e.V., with a total area of approx. 100ha (of which approx. 35% are playing areas and 65% are extensive areas), is located in the community of Quickborn-Renzel in the north-west of Hamburg. The golf club was founded in 1982 as an 18-hole golf course and is largely embedded in the flood plain of the river Pinnau, which gives it its name. In 2010, an additional 9 holes were inaugurated north of the clubhouse. The design of the new course is reminiscent of a links course and, due to its comparatively elevated position, reveals a magnificent view over the flood plain of the Pinnau River.
The land now used for golf was farmed before its change of use. On the A and B courses, old, large oak trees, preserved curtilages and a system of drainage ditches can be recognized as relics of this use. The areas of the C course, on the other hand, were characterized by agricultural monoculture. They could be considerably upgraded by the creation of lake landscapes, alternating wet biotopes, extensive succession areas and the integration of the adjacent state forest Rantzau.
Look forward to a varied golfing experience on a top maintained 27-hole golf course which was awarded the Golf und Natur Gold certificate for the first time in 2017.
Space overview
We play the entire 27-hole course from our tees (white, yellow, blue, red, orange, green) and the corresponding DGV ratings.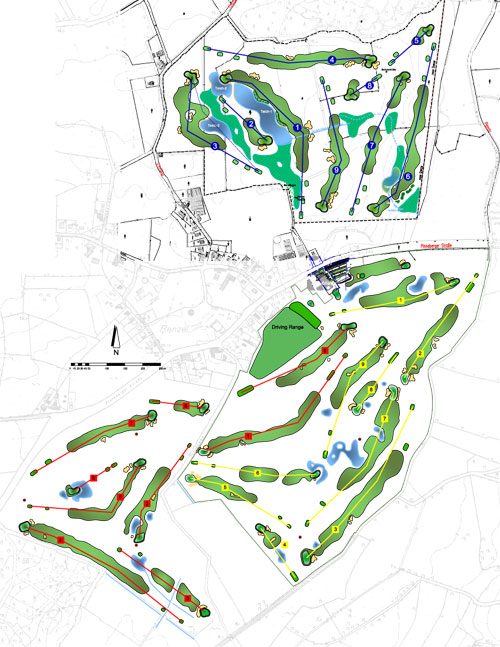 our place
Virtual golf round over our courses